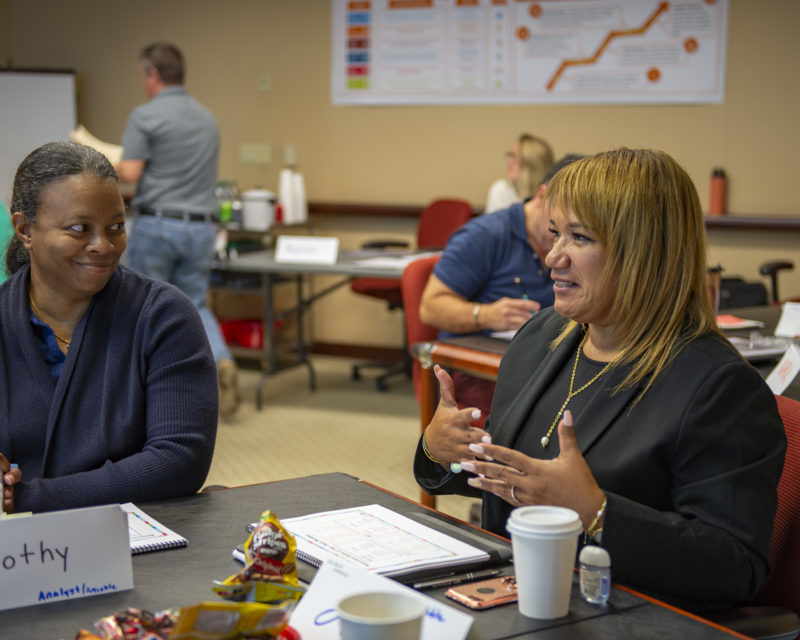 Leading the Way to Better Performance
ITG Brands offered two leadership development programs in FY19 to further promote professional growth and support individual and company success. The two programs, Dare to Lead and Inspire to Lead, were spread over a four-month period and included virtual coaching as well as on-site workshops.
"The Dare to Lead program was both informative and practical that gave me a clearer understanding of myself and how I impact the team that I lead," said Environmental and Safety Affairs Manager Dorothy Vannoy. "Participating with the other attendees brought clarity to how others handle situations and allowed me to learn from a diverse group. I have already had the opportunity to implement many of the concepts with great results. I will continue to put these leadership concepts into practice to stimulate change in a way that is engaging and interactive."
With approximately 30 attendees in total, the workshops were designed by Imperial according to the Leadership Expectations framework and tailored for the US, with ITG Brands being one of the first markets to launch the programs. Included in the training was a 360 survey from the Center for Creative Leadership (CCL) as well as a Myers-Briggs Type Indicator assessment.
A key takeaway for Quality, Safety & Environmental Director Ron Ervin focuses on the need for understanding personal strengths and weaknesses and having the courage to have honest conversations about the needs of the company.
"We work in a highly volatile and rapidly changing business environment that relies on a highly informed, involved and collaborative workforce", says Ron. "We have a responsibility to ensure that others in the organization are aware of the challenges before us and that they have the opportunity and ability to voice their thoughts and ideas to help us navigate the issues in a collaborative and successful manner."
Building on that thought, Product Integrity & Compliance Senior Director Carole Folmar understands the importance of self-reflection and perception.
"Understanding ourselves and how we are perceived as leaders provides clarity as we continue to work on our own developmental areas as well as engage others in the leadership process to achieve our shared objectives," says Carole. "Our business demands cross-functionality and collaboration to successfully stand up to the challenges we face. The more we understand about ourselves and those who we lead, the better we are able to open the lines of effective communication."