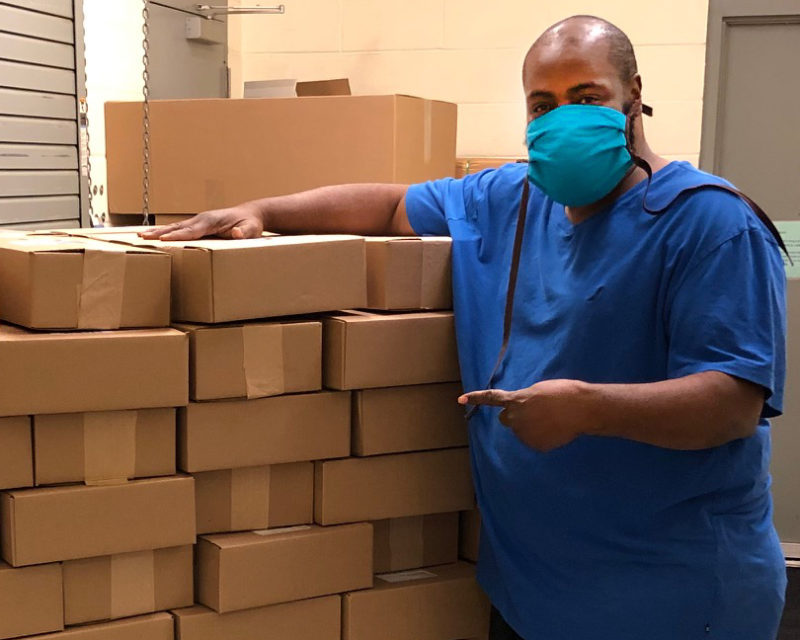 OBrian Ellis prepares personal protective equipment for shipping to Field Sales employees from the Corporate Mailroom.
Thank You to the COVID-19 Taskforce for Your Dedication and Hard Work
The COVID-19 taskforce was formed in the very early stages of the novel coronavirus pandemic to stay abreast of the rapidly evolving scientific and virus information. The team consists of 19 members from across multiple business units and facility locations including the Manufacturing Facility, Product Integrity and Compliance, Corporate Facility, Danville Tobacco Warehouse, blu in Charlotte, Altadis in Tampa, Fla., and McAdoo in Pa.
"This team has been extraordinary in its commitment to the health and safety of our work force and has worked tirelessly to ensure that people stay safe while we continue to operate the business," says HR SVP Michele Deuterman. "The entire team has taken this responsibility for the people and the business seriously. They deserve some serious thanks!"
Daily meetings were held to review the latest CDC and public health guidance information and to make decisions on the best implementation and clear communication of critical information across the organization.  As details were being released within the public health community, the taskforce reviewed, discussed and initiated next steps in response to the quickly changing environment.
"This team was extraordinarily competent and efficient right from the start," said Quality, Safety & Environmental Director Ron Ervin. "The collaboration across the business units was exceptional with highly value-added input from all team members. With the COVID19 situation evolving so quickly in the public health community, it was critically important to have such a broad perspective of team members monitoring the vast amount of information.  This allowed the team to quickly respond and make decisions that were highly meaningful and timely."
Key communications keep employees informed of the latest guidelines as well as ensure all employees are informed of necessary safety requirements. The team implemented work-from-home guidelines where applicable, the use of masks for essential workers, medical temperature screenings, enhanced cleaning procedures, and protocols for handling reporting of suspected COVID-19 related illness. The team designed, purchased, and distributed safety kits to all field sales employees upon their availability to return to work in the retail environment, as well as, purchased and installed additional handwashing supplies for employees.
"Now is not the time to let our guard down," says Ron.  "We are not out of the woods yet. We must continue to practice the safety requirements set forth by the public health community and this task force to keep ourselves and our coworkers as safe as possible. The COVID19 virus has been a very complicated challenge for us all.  It has been an honor to work with such a dedicated team of individuals during this stressful and rapidly changing time. And I want to express a Thank you to all of our employees and coworkers who have abided by this team's guidance to keep our company safe and operational."